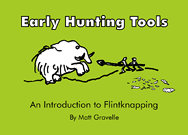 See larger image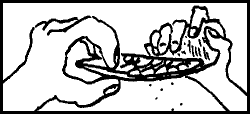 Click here for more information including sample pages and animations.

Early Hunting Tools
An Introduction to Flintknapping
ISBN-10: 0964572702
ISBN-13: 9780964572706
Paperback Book 120 pages 7.125 in x 5.125 in
Early hunters and gatherers produced their own tools for hunting and butchering animals. Knives and spearpoints were made from glassy rocks such as flint and obsidian. Stones were pounded and chipped away, leaving a tool with a very sharp edge. Learn about the materials, methods, and products involved in flintknapping. This handbook defines over 60 fundamental terms, with original cartoons on each page, based on the lithic technology classes conducted by anthropologist Dr. Lee Sappington. Index and short bibliography included.