"In the last few months of my father's life, we worked together with Pine Orchard to make the dream of publishing his autobiography Up from Hard Times come true. The team at Pine Orchard pulled out all the stops and my dad was able to see the imaginative vintage photo cover they designed before he passed on. He knew his book was in good hands or, knowing my father, he would never have left. The professionalism and support of all the staff helped make my father's 10-year project culminate in a grand success. Thanks to all of you at Pine Orchard."

—Clem's daughter, Martha Bueché
Portland, OR
(commenting about her father's book)

Author Clem Bueché
Denver, CO

Make It the Book of a Lifetime
Congratulations! You found us. Our company truly cares about quality and preserving the character of your work.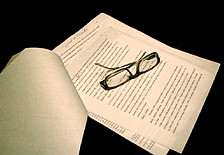 You're somebody and your words are special and unique. Putting thoughts and ideas into a written book is an everlasting treasure.
We recognize that all books are not created equal.

At Pine Orchard, we treat every book project with the care and attention to develop a special legacy. Anyone can write a book, anyone can publish a book, but can anyone do it with style and class? Yes—if choosing the right help. The final product can surpass your own expectations. Our promise of quality comes from a simple phrase that echoes with each book we produce: "Do it well, or not at all." It's your book and we promise to help make it the book you have always wanted.
Click here to see how to get started.