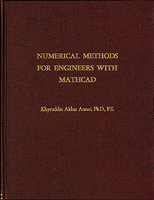 See larger image

Numeric Methods for Engineers with Mathcad

Khyruddin Akbar Ansari, Ph.D., P.E.
Publisher: Ulyssian Publications
ISBN-10: 0964572761
ISBN-13: 9780964572768
Hardcover Book 350 pages 8.5 in x 11 in
Dr. Ansari's book provides a solid introduction to numerical methods for engineers using Mathcad. A readable textbook that does not intimidate students with its content. Mathcad screenshots have been reproduced throughout the book to help make the computer software understandable. Page size, borders, font size, and space between equations are larger than normal, but they induce the learner not to give up. The layout makes learning numerical methods for engineering problems student-friendly. Very readable for the lower-level courses and an excellent review for higher-level coursework. Overall, a good resource to have on hand for engineers, from the beginning engineering student to the engineering teacher.