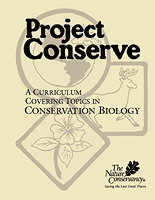 See larger image

Project Conserve
A Curriculum Covering Topics in Conservation Biology
Written by Karen Johnson Lamb, Illustrated by Maria Ryan
Publisher: Ulyssian Publications
ISBN-10: 1930580282
ISBN-13: 9781930580282
Softcover Book 274 pages 8.5 in. x 11 in.
This science-based, K-12 curriculum covers topics in conservation biology and relevant environmental issues while incorporating activities usable in other disciplines. Science objectives are carefully designed to align with the National Science Education Standards. Includes 12 units with each unit having grade levels, objectives, pretests, vocabulary lists, background information, time estimates, materials, preparations, procedures, discussions, activities, reproducible masters for classroom use, post tests, and cited sources. Glossary included with seven appendices. Over 125 illustrations by an award-winning wildlife artist.

The Nature Conservancy is a private, nonprofit organization dedicated to preserving the plants, animals, and natural communities that represent the diversity of life on Earth by protecting the lands and waters they need to survive. In Idaho, the Conservancy has worked successfully to protect over 220,000 acres.