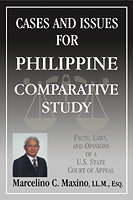 See larger image

Cases and Issues for Philippine Comparative Study
Facts, Laws, and Opinions of a U.S. State Court of Appeal
Marcelino C. Maxino, LL.M, EsQ.
Publisher: Ulyssian Publications
ISBN-10: 1930580541
ISBN-13: 9781930580541
Paperback Book 288 pages 6" x 9"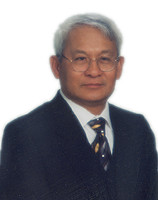 Marcelino C. Maxino, LL.M., Esq. compares the Philippine and U.S. legal systems. He presents 19 actual cases that relate with today's ongoing issues, including the following:

child endangerment
intellectual property
unlicensed contractors
drunk driving
self-representation
jury nullification
corporation contracts
search and seizure
prior conviction evidence
ineffective assistance of counsel
change of circumstances
parental rights

The presentation of each case is written as two sections: 1) the author's narrative; and 2) the recorded opinion of the court. The narratives and opinions are formatted to be easily read, but distinctive enough to separate the author's explanations from the legal records.

In the narrative, the author shows similarities and differences in law for both countries. For example, trial by jury (a system used in the United States which is a common law country) is not used in the Philippines; only trial by judge alone (a system used in the Philippines which is a civil law jurisdiction) is used. Another example is ruling evidence that lies in the gray area of admissibility and nonadmissibility. The Philippine judge can simply rule "the evidence is admitted for what it may be worth" while the U.S. judge cannot make that kind of ruling.

As lead appellate court attorney, Mr. Maxino drafted over 500 opinions for the California Court of Appeal. Before this, he was a Philippine trial lawyer, law dean and professor, and university president. The author immigrated to the United States in 1985 at the age of 47, passing the California Bar Exam in his first attempt two years later.

Cases and Issues for Comparative Study provides a practical resource guide for those interested in learning and understanding how the law works in the United States and the Philippines. Students and practitioners, judges and policy makers, critics and opinion makers, even the general reading public, will find this book handy and unpretentious.