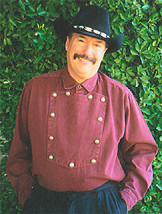 For as long as Al Marquis can remember, he owned a cowboy hat, boots, a gun and holster. He playfully recalls some fond (and "mostly" truthful) memories of his ranching adventures. Illustrator R. Jerry Brown uses pen and ink to capture much of the fun and spirit found in Al's stories. As one Boss Lady describes them: "A rollickin' good read. You'll laugh and cry as these poems touch your funny bone and your heart."

Poems are recited by Al Marquis himself.

"When I recite my poems, I won't do a poetry reading," explains Al, "I do a poetry performance." After the first few poems, you'll know what he means. He certainly belongs on stage in front of a crowd.