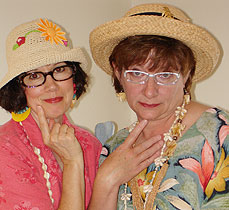 Yes, Marriage Does Give Men Brain Damage!

It's true. We're Alyce Shirleydaughter and Iona DeLorian. We discovered the cause of all those husbandly quirks—the sinepynit gland in the male brain. And we wrote this book to help you:
Learn to identify the symptoms of Dysfunctional Married Male Mentality (DMMM) Syndrome
Assess your husbandís mental state using our Quick Quiz
Master techniques designed to combat DMMM
Learn emergency interventions you can use today
Disclaimer: Alyce Shirleydaughter and Iona DeLorian are fictional characters and their doctoral degrees are figments of their imagination. The pseudo-scientific information presented in this book is fictional, as well, and is intended solely for entertainment (although the authors truly believe that their techniques are doozies and should be embraced by real doctors everywhere).