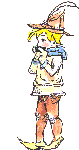 In the splittest of split seconds, a beautiful princess and a musical beggar fall in love. But the dreadful thought of being ZIGGLED AND TWIGGLED haunts the kingdom. How can allergies and cats, celery and cornstalks, emus and timepieces remedy the torment?

Join Heather Brown as she listens to Jo-Lo, her blue-fluffy friend, tell the story of the kind, sweet Princess Gwyn-o-cheri; the angry, wicked Lord Raisinkatz; and the magical beggar. Also meet the Huntsman Na-Nicky, Sergeant Muster-Buster, and Tickory Tettle the Tax Collector.

With over 80 full-color illustrations and his subtle (corny) humor, Harry Chinchinian creates a book for readers of all ages who are young at heart. One of the books in the Heather and Holly Brown Series.